Bohne Audio: Innovative, active loudspeakers with patented dipole broad-range ribbon tweeter
Bohne Audio is a German loudspeaker manufacturer from Engelskirchen, near Cologne. At the heart of our innovative, high-end loudspeakers is the patented broad-range dipole ribbon tweeter: Believe it or not, it is capable of displaying frequencies of 20 kHz to 800 / 500 Hz (crossover frequency is model-specific) undistorted, at an transient performance over 125 dB SPL –  the only one of its kind in the world.
Jörg Bohne, mastermind and chief developer at Bohne Audio GmbH, has been working on this innovate dipole driver for more than 15 years. As a professional musician (he is an active member of three bands), he had and continues to have the highest of demands for 'real, live transient response'. And, as no existing sound converter concept was able to convince him, the trained physicist took matters into his own hands and developed the dipole broad-range ribbon tweeter for series production.
The newest version of this high-performance chassis speaker – which makes use of new materials from aerospace technology and a new transducer – is incorporated into the reloaded upright speakers BB-12, BB-15 and BB-18. The Bohne ribbon works as a 2-way system, together with a modified JBL bass chassis speaker (in 12, 15 or 18 inches).
A/B Class MOSFET power amplifiers for BB-12, BB-15, BB-18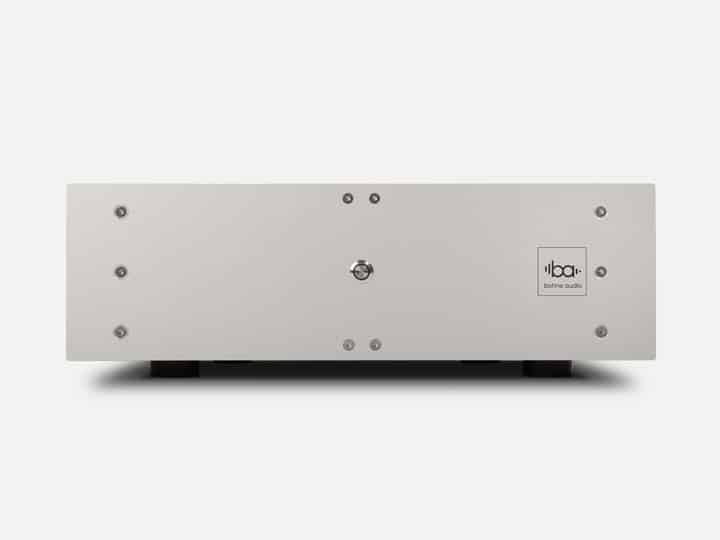 The accompanying A/B Class MOSFET power amplifiers (2 x 600 watts or 2 x 350 watts, depending on the model) are also manufactured in-house.
High-quality German-made components are used, perfectly tuned for both loudspeaker drivers. The power amplifiers are available in black or silver, and are also offered separately to allow for the operation of passive loudspeakers.
Trinnov Amethyst or Altitude: best digital harmony guaranteed with world leading preamp and room correction
We combine the active Bohne upright speakers with the, in our opinion, best digital preamplifiers in the world: Trinnov Audio. Even the smallest detail of the Bohne loudspeaker system is optimised for digital control. No dynamics-reducing passive components of any kind are to be found in our loudspeakers.
The power amplifiers are tuned to the output stages of the Trinnov devices, guaranteeing perfect coordination. The Trinnov corrects loudspeaker amplitude and phase response, and equalises the room in one step. At the same time, it functions as an active crossover, separating ribbon and bass driver with 48 dB transconductance, so that every driver can unlock its full potential.
This is what experts say about the Bohne Audio systems
"In one word: sensational. And that's not just empty talk – I … have never heard music like this before …

The usual categories, like spatiality, tonality, etcetera, are soon brushed off … – it doesn't get better than this."
"The best digital system I have ever heard – by a pretty big margin. Transparent, quick, sonorous – and truly musical. In spite of my fundamental scepticism towards digital reproduction: you should absolutely listen to this active system from Bohne Audio. It really makes you think. It's absolutely incredible what it makes possible!"
All advantages at a glance
Our upright speaker series in detail
The BB-12 is designed for every 'normal' living room, with a sleek, attractive form, thus ensuring a high 'Woman Acceptance Factor' (WAF). With this system, you have already achieved your dream of owning a completely high-end system which, thanks to Trinnov's room correction feature, is perfectly tuned to your listening environment.
The premium models BB-15 and BB-18 are designed for larger rooms: 30 to 55 m2 for the BB-15, and 40 to 100 m2 for the BB-18. These 'projectiles of sound' deserve an acoustically-optimised environment with reverberation times of under 0.6 seconds.
BB-12
BB-15
BB-18
Dimensions
110 x 38 x 43 cm
120 x 54 x 65 cm
125 x 65 x 65 cm
Weight
42 g (Bass body 30 kg; Ribbon 12 kg – transported separately)
60 kg (Bass body 42 kg; Ribbon 18 kg – transported separately)
70 kg (Bass body 52 kg; Ribbon 18 kg – transported separately)
Frequency Range
30–24.000 Hz (- 3 dB)
25–24.000 Hz (- 3 dB)
22–24.000 Hz (- 3 dB)
Max. acoustic pressure
120 dB / 1 m
123 dB / 1 m
125 dB / 1 m
Mid-/Low-Range 
JBL, modified, 12 inch
JBL, modified, 15 inch
JBL, modified, 18 inch
Mid-/High-Range
Dipole Ribbon,
220 x 14 mm,
patented
Dipole Ribbon,
300 x 18 mm,
patented
Dipole Ribbon,
300 x 18 mm,
patented
Efficiency

95 dB (Bass)
95 dB (Ribbon)

97 dB (Bass)
99 dB (Ribbon)
99 dB (Bass)
99 dB (Ribbon)
Crossover Frequency
800
650
550
Recommended Distance From Wall
20–80 cm
30–150 cm
30–150 cm
Power Amps
 4-Channel Power Amp

4 x 350 Watt (Class A/B); Bi-Wiring
MOSFET
Dimensions: 17 x 44,2 x 51 cm
Weight: 27 kg

 2 x 2-Channel Power Amps

Each 2 x 600 Watt (Class A/B); Bi-Wiring
MOSFET
Dimensions: 15 x 44,2 x 51 cm
Weight: 26 kg each

2 x 2-Channel Power Amps

Each 2 x 600 Watt (Class A/B); Bi-Wiring
MOSFET
Dimensions: 15 x 44,2 x 51 cm
Weight: 26 kg each
Home cinema enhancements
In addition to our upright loudspeakers, we offer satellite loudspeakers, centre speakers and sub-woofers which work together in perfect harmony. The home cinema loudspeakers are streamlined for operation with the Trinnov Altitude 16 or 32.
The surround and height loudspeakers BB-8S can be furnished with stands, ceiling brackets and/or wall-mounting brackets, and are also available in individual colours and veneers.
The BB-8S satellites, as well as the Center BB-8C are passively integrated, the ultra-high-end Center BB-12 is actively operated with the BB-600 power amplifier. The three sub-models, Sub-12, Sub-15 and Sub-18, are fitted with integrated Class-D power amplifiers with 1,000 to 2,400 watts.
In this way, Bohne Audio also offers a fully-coordinated all-round package for ambitious home cinemas to suit the highest demands.
Technical data of our home cinema components
 
BB-8S
BB-8C
BB12C
Dimensions (HxWxD)
55 x 27 x 27 cm
27 x 70 x 45 cm
40 x 94 x 70 cm
Colour/veneer
oak/black, cherry/black, matt lacquer black or white, all individual designs possible 
Maximum acoustic pressure
115 dB / 1 m
115 dB / 1 m
124 dB / 1 m
Distorsion factor
 < 1 % at 1.000 Hz/100 dB/1 m
 < 1 % at 1.000 Hz/100 dB/1 m
 < 1 % at 1.000 Hz/100 dB/1 m
Mid-Low Range
8 inch
65 mm Long-stroke voice coil
Low bass enhancement over two 8-inch passive radiators
2 x 8 inch
65 mm Long-stroke voice coil
Bass-Reflex to the front
12 inch JBL, modified
100 mm Aluminium Flat wire voice coil
Bassreflex to the front
Mid-High Range 
Dipol ribbon.
160 x 14 mm,
patented
Dipol ribbon.
160 x 14 mm,
patented
Dipol ribbon.
300 x 18 mm,
patented
Crossover frequency
2.000 Hz
1.400 Hz
> 500 Hz
Weight
18 kg
35 kg
68 kg
Power Amps
–
–
BA-600:
2 x 600 Watt
Class A/B
Cinema gallery: client installation / Bohne Audio Showroom